Well, it has taken sometime, thirty years in fact but Dean Mortensen, formerly of George Patterson, Young and Rubicam Sydney has finally decided to branch out on his own. Dean, a highly accomplished and seasoned advertising agency art director has spent three decades creating television commercials for all the major Australian brands in the tourism, alcohol, motor vehicles, entertainment, FMCG, Retail Services, telecommunications, and sport industries.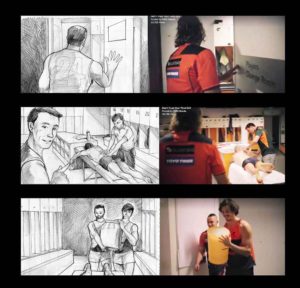 So finally after all these years, he has decided to carve out a niche of his own, specializing in the field of pre-visualization, concepts and animatics. With Dean's exceptional drawing skills, he has the uncommon ability to work very closely with film directors in a way that is best described as "conceptually filmic".
With the artist's eye and his depth of experience, Dean is able to quickly capture the shot or camera angle that is quite literally taken by the film director as gospel. Just take a look at his before and after video's and you will see just how accurate his vision is when it comes to knowing what works and what doesn't.
Currently working out of a co-op studio in the historic Valhalla cinema building in Glebe, Sydney – Australian based, Dean is offering his services as a freelance storyboard artist. He works in a variety of finishes and sizes, so that any art director will find exactly what the campaign brief requires.
Whether it is quick small, black white storyboard frames, or pencil sketch free form concepts all the way to full color highly detailed concept boards, storyboards or animatics Dean has you covered.
For more information about Dean Mortensen the Sydney storyboard artist freelancer, just visit his website at http://www.scenesbydean.com