Home
Here's The Easy Way To Learn How To Draw Caricatures, Proven System And How You Can Put It To Work For YOU.
Dear Friend,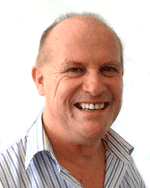 You're about to go deep inside one of my best kept secrets of drawing caricatures,
that is going to help you learn to draw caricatures that is easy it is to create
winning caricatures, time after time.
Now this is not your usual rehashed how to draw caricatures stuff you see
on all the other websites, no way! What's the point of that when it has been
done so often.
Here you will find my fresh and inventive ideas and exercises that set me
apart from all the other caricature websites on the web. Sure I am a little
zany and anyone who has met me will vouch for that but hey, isn't that's
what sets us apart from regular folks anyway?
We are artists and that means we have a lot to offer to other people, as once
a wise man told me, an artist is someone who solves problems for people who
cannot or at least think they can't solve on their own – (there is a difference).
Anyway On With The Show
And listen, this system is so easy that it doesn't matter how well you draw right
now, because I am going to show you that even if your drawing is atrocious and
I mean really bad like stick figures you would see a child
draw, you can still knock people's socks off with laughter when they see
your funny drawings.
WARNING: This story gets ugly. Things get hairy and
people get weird when stories of making easy money start flying aroundespecially
when it's
$200 In Under One Hour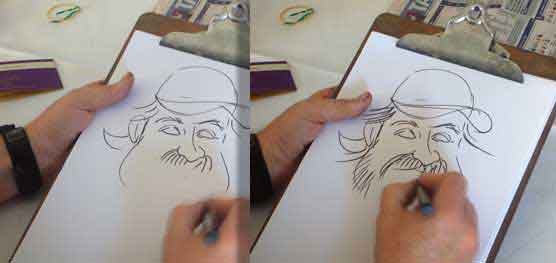 Actually, it's a lot more. That's just a rough estimate
of what you can make from drawing slick and quick caricatures with my proven
easy method on any given day. There is a trick to this and it is not
altogether obvious when you first think of your typical caricature artist.
Stick with me here and I will show you how it is possible to make over
$1200 in Under 24 Hours
But before we go any further, we need to set the record straight.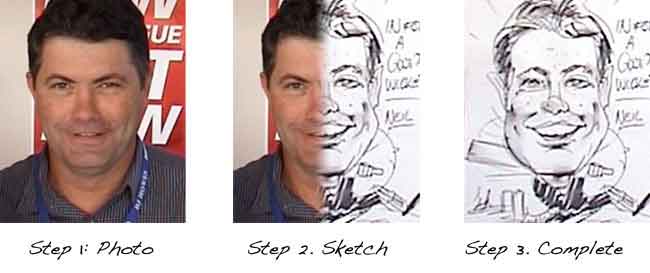 We're only at the beginning of this letter and you've already seen some
really big numbers. And if I were you, I'd be wondering
Is This A Bunch Of Hype?
And you're absolutely right to ask that question.
Look, if I wasn't they guy who's been drawing caricatures of people for
the past 30 years, and saw the looks of amazement on peoples faces when I gave
them their drawings, then I would be somewhat sceptical too. In other words
I know how you feel.
So let me put your mind at ease by pulling back the curtain right now and
showing you exactly what I have been doing, that makes this game so easy.
I am going to show you amazingly simple tricks that most other artists will
not tell you. It is in their best interest to make it sound hard, so that you
don't get it and start doing this for yourself.
So
For the first time ever,
Here's The Back Story Behind The Easiest Trick Of All In The History Of Drawing.
I know you've heard other people hint at easy tricks and exercises before
but this one is so obvious when you think about it for a moment, you will probably
want to kick yourself for not seeing it before.
So right now, I'm going to break it all down for you. Whether
you are wanting to draw caricatures just for fun or you want to know how to
make some extra cash, and I'll show you exactly what you need to
do to make drawing caricatures fun and easy and if you like – profitable!
Let's begin.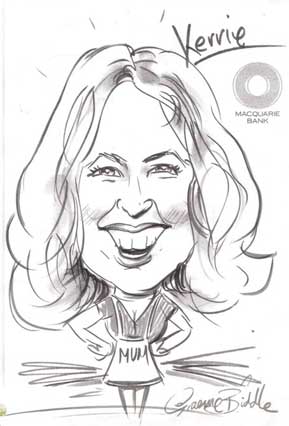 First of all, this trick has been tightly guarded for centuries and I'm
about to blow the lid right off it. All the great art masters across the centuries
did this, when they were first starting out.
I know what you are probably thinking right now, everyone knows that the
great masters of art across the centuries studied under the great master who
came before them " that's no secret!" Well you are absolutely correct
that is no secret at all, everyone who's studied the arts will know this,
that great masters of the art produced understudies, some of whom went to to
their own successful careers as artists.
But that is not it " so what is this secret?
Are you ready?
Ok, so what is the one thing that makes drawing caricatures so easy that you
can start doing this straight away? Let me sum it up this waywith a question
for you
Which Is Easier To Hit?
a) A Moving Target
b) A Sitting Duck?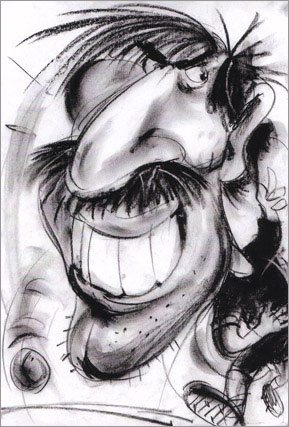 No I am not talking about duck hunting or shooting of any kind, but if you were just starting out learning to shoot target rifles, which would you choose, a stationary object or a moving target?
This is really a no brainer, the stationary object of course!
A moving target is just too difficult to hit when you are just starting out
as a junior marksmen, or markwoman or marksperson, arghhhh! this PC stuff drives
me crazy but I think you know what I mean.
The mistake most people make when they start out trying to
draw caricatures is that they are tackling subjects that are far too
difficult.
To make it easy on yourself, start by choosing a subject that has
exploitable features.
Good caricatures are all about pushing the limits of exaggeration without
offending people, or making them feel bad. So the first
of my trade secrets is this
Choose An Easy Target, Someone
With Exploitable Features
So what does this really mean in the real world? Let's take a look at some
examples.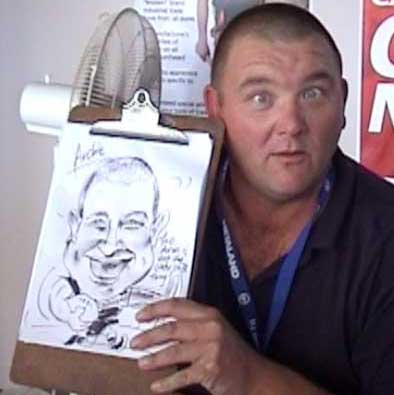 Whether you are choosing a subject as a sample caricature for your portfolio
or a subject at a birthday party, try to get someone who has a feature that
is easily exploitable to get the ball rolling.
For example look for someone with a strong chin line or a weak chin line for
that matter. Look out for the person with deep set eyes or eyes close together
or eyes wide apart.
Maybe someone with a high forehead or big interesting hair or crazy hairdo.
Somebody really old or somebody really young make great easy targets, because
frankly these two groups of people are literally sitting ducks!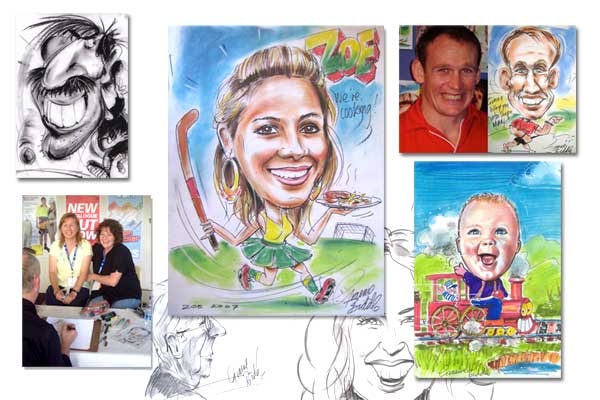 Break The Ice With An Easy Subject And Watch The Rest Of The Party Line Up To Take Their Turn
Old folk by default are generally sitting around so they will be used to sitting
still, and children on the other hand are usually running around but will cooperate
and sit still because of the fascination of being drawn.
You see all those amazing drawings you see that look so cool, are the product
of taking a series of small steps, baby steps that lead bit by bit towards
the goal of becoming a master caricature artist.
Okay I hear you say, pick an easy subject and then what? I
know what you mean, these things sound easy but the truth is when the pressure
is on, it can be quite scary. In fact the next little secret will have you
performing at your best with no pressure at all.
Secret No#2 Practise Without Pressure
We all know that it is easy to practise our drawing at home, away from the
limelight and spectacle of a live event, but whether it be
a birthday party or trade show, when people are watching you, the very thought
of making a mistake can freeze you with fear, that can literally stop you in
your tracks.
So how do you practise without pressure in a REAL working environment?
Answer: Simply grab a pencil and begin to sketch
one of your FAVORITE caricatures that you have done in the past
and you have on display. One that you have down pat, one that you could do
over and over because you have practised it to perfection, at home away from
the pressure of the crowd.
For one, this shows passers by that you are busy and can draw, and often people
will recognise what you are drawing from your display and make an enquiry.
Yeah -that sounds easy for you, as you are a trained artist, well
to tell you the truth
Here's Greg's Story:
Frankly, I Was Scared Out Of My Mind
Here I was at my very first caricature event and I thought
it would be impossible to break the ice and get my first customer.
That was until I began sketching away and along came and inquisitive kid who
asked if I could draw his ˜picture'.
Without his parents around, (no pressure to perform) I thought OK, I will
draw him a caricature for free, and that can't be that scary can it? Gee
if it doesn't work out then I will just do another. But you know what, it
worked out fine, the kid loved it and so did the other kids who gathered around
to see what was going on.
Then a line began to appear and parents were bringing their children along
and asking how much. Before long I had a waiting list for my caricatures (that
I didn't think looked all that good), but my customers just loved them.
$650 For My First Days Work As An Event Caricature Artist " I Could Hardly Believe it!

By the end of the day, I had made $650 for about 4 hours work. Thanks to Graeme's
easy techniques that I really hadn't studied too hard to tell the truth.
I am looking forward to my next event " bring it on!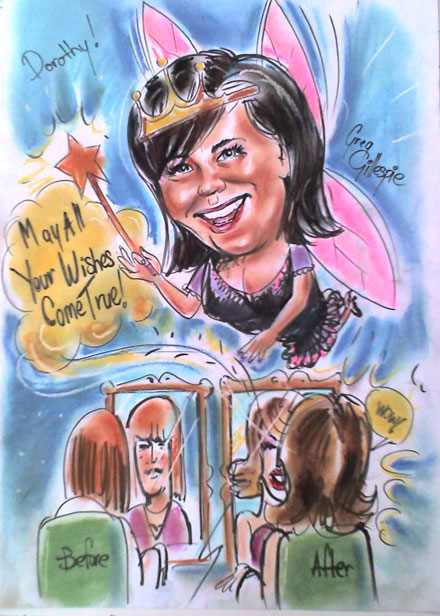 Greg
Brand new caricaturist
===============
Such was the case for one my students, Greg, who I had left
to mind my caricature stand at a trade show, when I had inadvertently double
booked myself.
Greg was reluctant to take on the task of Caricature Artist,
I knew he could do it so I left him in charge as I had to leave for the other
event.
When I was about to leave Greg was that nervous that he handed the paper,
pencils and pens back to me and said, I don't mind looking after
your stand and if any customers come along, I will just give them your details,
but no I am not ready to do real paying customer work!
I told him to relax and draw a couple sketches, remembering the first rule
of pick and easy subject and the second rule, practise
without pressure and you will be fine.
Reluctantly Greg took a small stack of paper and pens from me at the last
minute and I left him with it, knowing that if he followed my simple steps,
even his inexperience would not be enough to stop people's curiosity and
ultimately paying customers from beating their way to the front of the line
to have their caricature done.
Incidentally Greg had flow on customers who bought more artwork from him after
the event to further make the day very worthwhile. His worry turned to excitement
because
I Pulled In $4,150 From Just 4 Hours At The Event!
Naturally Greg didn't make all that money on the day, he still had to go
away and create the artwork for his new customers, but I think you get the
picture, (no pun intended hee hee ; )
Still making $650 for half a days work is nothing to laugh at and work that
flowed from there was pure cream. I have helped over 450 people just like you
since 2008, so there is no reason why you can't be next. If
you would like to read more happy customer testimonials just click here.
So there you have it, that is just two of my trade secrets that have kept
me busy for the past 30 years drawing caricatures that make people laugh and
have kept me laughing all the way to the bank!
If you would like to find out more, why not sign up for my sneak preview of
the now famous,
Serious Fun With Caricature " 21 Days to Cartoon Mega Profits home study course. SNEAK PEAK " PREVIEW it's Free!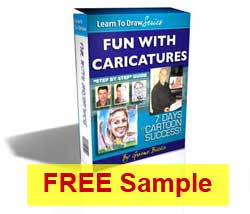 I will send you some sample chapter so you can take a peak inside at what
over 60 others have been using as a valuable training source for their own
caricature careers.
Just enter your first name and email address below and I will send it to you
over the next few days so you can decide for yourself if this is what you are
looking for.



Don't worry, I promise to keep your email address private, as I hate spam as much as you do!
Good luck with your caricature drawing!
Graeme Biddle
Serious Fun With Caricatures