How To Profit From Selling Your Caricatures Over and Over Again
Part 2
If you missed part one you can find it here.
Before we go any further you may remember I mentioned a master artist by the
name of Graeme Biddle in part one. If you are looking to get the inside skinny
on how to learn the slick art of caricaturing, Graeme is just the man to teach
you.
Graeme runs a home study course that goes over 21 days and is based on his
video instructions in a step by step fashion. He reveals all his tricks of
the trade he has amassed over his 30 years in the profession. If you are keen
to learn how to:
Draw caricatures quickly and easily to make some extra cash
Learn the art of the repeat caricature
Become skilled in the upsell from the $20 caricature to the $1200 model
Discover a secret source of caricature that never dries up
then you should check this guy out.
It is very affordable and is guaranteed with a full 60 day money back policy
that is second to none, I personally know people who have given it a try and
found it to be an awesome resource. But hey I am digressing a little here,
you probably already know how to draw caricatues perfectly well and know these
things anyway, but for those who don't I can show you where to find this gem
of a course at the end of our lesson.
Lets get back to assuming you have all
your caricatures together and you want to know how to attract all the traffic
you are going to need to make a good chunk of sales.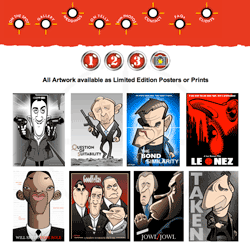 Here
is an example of what a site could look like, that is going to do very well
selling caricatures of celebs, in fact this guy does exactly that and has been
doing it for a long time.
http://www.caricatures-uk.com/gallery.html
He sells his artwork of famous people over and over and over again, by selling
limited edition posters for $20 and $40 dollar a piece (£15 and £30 if you
are in England). Now I don't have a clue how well this guy does but by the
look of his work, I would imagine very well indeed. I found this site by Googling
"celebrity caricatures" but I didn't get there directly, I had to
come by another site to finally find this guy. Why is that you may ask, as
surely someone this good should be at the top of Google right?
Well no. But his link page or link site was and that makes all the difference
in traffic. Having a feeder site to do your fishing and then bring in the big
fish in a true "two step" fashion is how it works. How do you learn these tricks
of getting traffic to your site?
There are two ways, one the long and hard road to success or secondly the
pathway that offers some leverage or assistance to get there. I have travelled
both these paths as an artist trying to find ways to get traffic to my site
and I can tell you the second option is preferred if you want to make things
happen quickly.
How To Build Your Site – Who To Choose?
The people I recommend you use are a group that would have to be the most
professional and reliable mob to choose to make the task of setting up your
website and driving the targeted traffic that you need, is a group called Site
Build It (SBI). You don't need to know html, or be a geek or possess any degree
in computer programming. All their templates are easy to customie to your own
look'n'feel as they say and they take you through the whole process step by
step at a pace you can easily understand. And all importantly, afford.
Many site creation tools out there are nothing more than "hosting bait" to
get you in on a cheap web hosting package, only to wash you up big time when
they start to charge you for extra traffic. The $4.95 hosting with a free website
deal sounds too good to refuse for many but if you are going to be getting
any serious traffic to your site, you may find you are paying a whole lot more
than you bargained for. SBI doesn't do this, you pay a flat monthly fee and
that is it, and they guarantee that you will be in the top 1% of all websites
for your chosen keywords (think audience here) or your money back. It doesn't
get any better than that. (I just hope not too many of my high paying clients
find out about this as I will be out of a job permanently!)
How To Target Teens With Your Caricatures and How To Sell To Them
There are several tools you can to get this job done but naturally I have
my favorite.
By the way, there is the long hard way to the top of Google or the fast easy
"two step" way I hinted at earlier on.
Let's Follow An Example:
Go to Google
Type "mobile phone wallpapers"
Click on the third link from the top, www.mobile9.com
So what do we have here hey? A mobile phone website where members can upload
and download ringtones, wallpapers, screensavers and other cool mobile stuff.
Do you reckon anyone comes to this site? Well, look a little closer at the
home page and you will see it currently has 3.2 million registered members!
I almost feel like I need to be putting my "pinky" in the corner of mouth a-la
Dr Evil style when I say that out loud. Whooa! That is a lot of potential customers,
but get this they have had 6.5 Billion downloads!!! Dr Evil…
Join this site like I did and get into the forum, the uploads of your cool
caricatures and start to connect with other users (esp the ones at the top
of the totem) and just watch the downloads of your cool celebrity wallpapers.
And make sure you have your profile up to date with your link to your own website,
where users can get more of your stuff. This is the secret and second part
of the "two step" approach to website traffic.
Your Website, Now You Have Traffic, Targeted Traffic That Is!
OK, so how to setup your site to make some money.
Follow these simple steps and you won't go wrong.
Make sure you deliver on your promises and have some more FREE wallpapers
to go
Ensure that you have only registered users or subscribers to your site,
allowed to download, just like on Mobile9.com
Then setup your auto responder email series (you know the emails that automatically
come out to you after you sign up on most sites these days) so that you have
your latest wallpapers announced to your biggest fans
These ones they have to pay for, once again, they trust you and have had
some good free stuff up until now and so they won't mind paying a dollar
a month to join.
They then tell their friends by texting them and sharing stuff around,
and this leads back to you and more sales.
Get just a fraction of the 3.2 million to sign up for your caricature membership
site and you will have a solid income based on caricatures you did once and
sold over and over and over again.
ie. 3,200,000 x .001 = 3,200 members each paying you $12 per year and you
have $38,000 income, and remember that is only one one hundred of a percent.
Not 10% or 1% but .1% or just one in one thousand. Now what if you could get
2 or 3 out of every one thousand visitors to their site? $76,000 or $114,000…OK
getting a little ahead of ourselves here, steady on but you get the picture
don't you?
Summary
So who do you think is going to sell more celebrity caricatures, you or the
guy with the posters? I don't know but I bet you he doesn't have 3.2 million
registered visitors to his site, that for sure!
I hope you have found this helpful and if you would like any more information
please feel free to contact me, Greg Gillespie by email info @ learn-to-draw.org
(remove the spaces).

For more information the recommended services here, you can click these links
to find out more.