Day 8: Caricature Example 1
Part 2:
7 Days of Exercises From Video

The next 7 days are going to fun filled and simple easy to follow video guides. They are going to be just like the video of our celebrity "Snoop Dog" that we did yesterday.
You should firstly watch the whole video a couple of times and then go and do the exercise by trying the caricature for yourself.
Each day you will have a still image to work from. These will be in the thumbnail format on the same page just below the video image link, with a link to the larger image you can print off and work from.
If you wish to see the larger version simply click on the thumbnail to go to the full size drawing that is contained in the diagrams section in the end of this book.
These drawings you will be completing to perfection, are what will make up your portfolio of work, so getting things right over the next 7 days is very important. You will not get any work doing caricatures if you have nothing to show people FIRST!


Watch and do the above caricature.

Read Me: Notes On The Subject
This first caricature that you will be watching above is of our first sitter, Sue. The caricatures were part of a "Fun Day at the Races" for a corporate event. This subject is a good one to start with, as she has a fairly easy face to draw.
You will note that she is also very happy to be there is having a lot of fun. Sometimes is it difficult for people to relax and we will be discussing that further on in this course.
Simply watch the video and listen to the accompanying audio to get the gist of just how fast and how fun it is to draw caricatures in this way. The emphasis is on "Keeping it Loose" and not getting carried away with the fine details.
The benefit here is that you will be working quicker and when you are charging by the drawing, you will do more per hour and make more money. Not to forget that people like these drawings done this way, if they didn't you would not be able to get away with it. Graeme has been doing this style for many years and it works every time.
Simple Exercise for Day 8: Copy This Caricature
So watch the video a couple of times and then set out to draw this caricature yourself. You can stop the video at each point to do the part you are up to.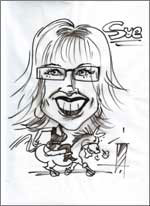 Click image to enlarge