Bonus#3: Search Engine Optimizer
Promoting Your Caricature Website
If you have taken my advice and launched a simple website to promote your caricature business online, then the next thing you are going to need to do, is get your website optimized for Google searches by SEO (search engine optimized) so that you turn up when some searches for a caricature artist in your area.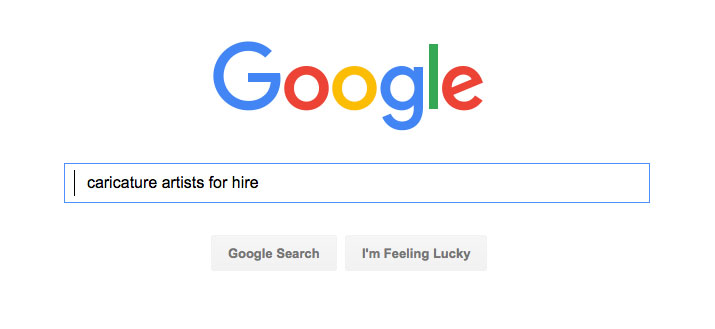 The main search engine you want to do well with is Google. Simply because they have the lion's share of the search traffic on the Internet. They currently hold about 70% of search traffic so you are going to want to know exactly how you can get your site to rank at the top of the first page of the search results, if you are going to stand any chance of getting some business flowing in from the free organic search traffic that is out there.
SEO Lesson 101

Watch This Video: The first thing to understand about SEO is that a lot has changed since I first created this course back in 2008 with Graeme. Google have totally reinvented the way to get your website ranked and they have some pretty hefty algorithms in the way of those who try to game the system the "old SEO way". These are called exotic animal names, such as Penguin and Panda. They are designed to make it difficult to check their system, and hence a lot of people today believe that SEO is just to hard to anymore, and unfortunately head off to the Google Adwords dashboard and begin paying for traffic to their site.
The only problem with this approach is that it can get quite expensive to "buy" your traffic and if you don't convert much of the traffic you are paying for, the whole process can become an expensive exercise that doesn't produce the outcomes you might be looking for.
Organic search traffic on the other hand, is totally free once you get your site to rank and it attracts visitors for free!
You are probably wondering what I might have to offer today in this course on caricaturing that might be helpful with SEO or search engine optimization for caricature artists? Good point, and here is my answer.
Since 2008 I have been working in the SEO industry, and it is the one way I got the Fun With Caricature course to begin selling on the Internet. I have expanded my operations to include a complete separate business, (apart from art endeavors) and have been doing SEO consulting for a range of clients around the globe since then. I have helped and continue to help business owners around the world to get their share of the Google search traffic without having to pay Google for it.


Special Bonus: So today I have a special unannounced bonus for you. I would like to help you get the most out of your investment in this course, and get the caricaturing work that you need and to do this you need to know how to SEO. Full stop.
I am going to help you learn how to do, what I normally charge a thousand dollars or more each month for my SEO clients. I would like you to start learning how to do SEO for yourself, by taking up my free 5 Day SEO training course.
Just imagine how good it would feel to be getting a constant stream of caricaturing work from people searching for a caricature artist for their party, son's wedding, corporate event, birthday or anniversary card or their sporting club's premiership winning team. It would be so cool, to know that you were the master of your destiny when it comes to figuring out how to easily rank for the following searches on Google.
Imagine if….
Someone when to Google and typed in the search box: caricature artists for hire … and you came up #1!
Well, here's a free tip, just try out that search and you will see that at position #5 (google.com US) the website listed there is only a few months old, has only one backlink (those links from other people's websites that boost your rankings) and there is approximately 50 people searching using this keyword phrase each and every month in Google. Here is an interesting fact, if you were to buy Google Adwords traffic for such a term, then you would be paying $4.40 for every click on your ad in Google. So wouldn't it be better to rank for this without the cost? You betcha it would! Now..
Now this guy has a great website, is a seasoned artist and there is no reason why you couldn't be doing the same thing, in fact with a little effort you could surpass his position and rank above him and even get to number 1. The reason why I have shown you this is that there are tools you can use to get the "behind the scenes" look at what keywords are the right one's to rank for and how you can do some pretty simple things to rank quickly and stay there. You just need to know what these tools are, how to use them and how to set up your on-site SEO and get the all important off-site or backlinks to your site. And by the above example and video you can see that you don't need to go out and build thousands of links, like the old days. Just a few, done the right way is all it takes.
Here Is A List Of Easy To Rank For Keywords
| | | | | | |
| --- | --- | --- | --- | --- | --- |
| Keywords | Suggested Bid | Local Searches | Advertiser Competition | Number of Words | Avg. KC |
| caricature online | $1.82 | 210 | High | 2 | 27 |
| caricature artist for hire | $4.36 | 90 | High | 4 | 24 |
| caricature artist san diego | $1.89 | 70 | High | 4 | 24 |
| caricature artist los angeles | $3.10 | 70 | High | 4 | 28 |
| caricature wedding invitations | $4.01 | 70 | High | 3 | 27 |
| caricature artists for hire | $4.40 | 50 | High | 4 | 22 |
| caricature sketches | – | 40 | Low | 2 | 27 |
| hire a caricature artist | $3.81 | 40 | High | 4 | 23 |
| caricature artist jobs | – | 30 | High | 3 | 30 |
| caricature artist for parties | $2.59 | 20 | High | 4 | 25 |
| wedding caricature artist | $3.66 | 20 | High | 3 | 26 |
| hire caricature artist | $1.24 | 20 | High | 3 | 26 |
| caricature artist orange county | $3.56 | 20 | High | 4 | 23 |
| caricature artists online | $2.68 | 20 | High | 3 | 27 |
| caricature from photo online | $2.99 | 20 | High | 4 | 29 |
| caricature services | $1.49 | 10 | High | 2 | 27 |
| caricature websites | $2.46 | 10 | High | 2 | 27 |
Table of SEO keywords – any keyword with an average KC (Keyword Competitiveness) below 30 is going to be relatively easy to rank for. I will teach you all about these things in the SEO training, so what are you waiting for, sign up below.
This really is a secret about ranking that few people know and understand today, as most people are still going about SEO the old way and finding out that they get into Google hot water sooner or later, so avoid these pitfalls, grab my free SEO training and I will be seeing your website ranked at the top real soon!
Click here to get SEO Mastery 5 Day Free Training now!
You choose your exercise for today!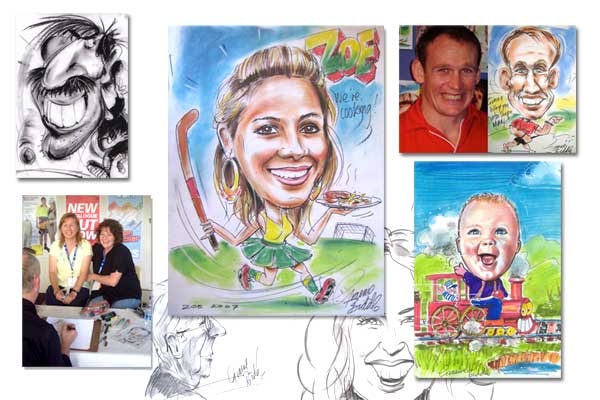 Don't do anything else on this day except some practice of sketches that you can now decide upon doing. Go back over the exercises from previous days, even chart your progress by looking over earlier drawings and see the improvement you have made over this past week.
Grab some of what you previously were happy with and now do them again – watch the improvement and add to your website and portfolio ONLY if they are better than what you currently have in place.
On this note of updating your website, always take copies of your best work and upload this to your site only if it is better or more topical than what you have on there at present.
When you are done it is time to look at getting ready for your first caricature gig or party or event or whatever it might be…
Checklist for the First Work Day
The day will come when everything is in its place and you are about to set off for your first day's work.
Run through this checklist to make sure you have yourself set up correctly.
Before the Event – After the Booking Interview
Check with the host or organizer to make sure there is suitable space to work
Is there going to be a table and chairs provided or do you need to bring your own
Are there any special needs guests you need to cater for
Directions by map or www.whereis.com
If you have a TomTom or Navman enter the GPS destination before the day to make sure you are well prepared
Have your materials ready, with plenty of back up paper, pens, pastels you don't want to run out mid show
Is there suitable lighting if there is a variety of places to work, make sure there is place where there is directional lighting (lighting that produces shadows, i.e. not fluorescent lighting)
Day of the Event – Be Early
With GPS or directions to the location in place check local traffic news for any delays and how to avoid congestion
Plan to arrive at least 1/2 hour prior to the event start time to meet the host and get all your things in the right place
Materials you will be using paper, pens, pencils, pastels, clipboard, table and 2 or 3 chairs if needed
Set up your booth or table
That completes our home study course "Fun With Caricatures – 7 days to Cartoon Success" with Graeme Biddle.
We wish you every success in your quest to have fun with caricatures and maybe even make a bit of extra cash.
All the very best,
Artist 
Summary and More Information Links
Well that concludes our "Fun With Caricatures – 7 days To Cartoon Success" and you are ready to do what you choose with your newly honed skills.
Be it drawing for fun or for profit you are now ready to start something amazing and rewarding that can deliver you to new levels of achievement never before imagined.
This is not the end of the road just the beginning and this caricaturing course has only so much information and there is a whole lot more that we are making available to further sharpen your drawing skills, so watch out for these soon.
So if you would like to find out more and see the latest special offers available just make sure you checkout our website regularly, we have a lot more coming your way.